Staff
Directress & Teacher:

Jean Chorbajian

Jean received her B.S. and M.S. degrees in Mathematics from Iowa State University. She has worked in research at the Geophysical Institute in College, Alaska and worked on her doctorate in Applied Mathematics and Physics at the University of Alaska.

After the birth of her first daughter, Jean learned about Montessori as her daughter attended a school in Pittsburgh. When the family moved to Toledo and found there were no Montessori schools, Jean took Montessori training from Dr. Helen Billings and opened her own Montessori school. She operated that school for 15 years before moving to Colorado. Jean loves to see the children learning so many things that will help them in their later school years- especially mathematics.

Preschool Co-Lead Teacher:

Barbara Beumee was born and raised in Boulder, she and her husband have lived in Lafayette for 28 years. They have no children of our own, but their cat Gracie requires lots of love and keeps them well entertained. Outside of working with young children, Barbara also enjoys reading, gardening, cooking, bicycling, the mountains, cross-country skiing, and making wheel-thrown pottery in her husband's studio.

Barbara's journey in Montessori Education began almost 20 years ago working as a classroom assistant at Montessori on the Mall in Denver. After completing an Associate Early Childhood Credential through the Montessori Education Center of the Rockies, she became a lead teacher and enjoyed 9 years at Gateway Montessori School in Longmont. Having recently completed her Bachelor's Degree in Early Childhood Education at Regis University, she is delighted to return to a Montessori setting and brings a passion for the possibilities this type of education provides in developing the whole child.

Preschool Co-Lead Teacher:

Claudia Roppel grew up in Northern Virginia and, as long as she can remember, she has surrounded herself with children. While earning a BA in Communications from George Mason University, she worked at a day care center and also served as a nanny. Being with young children brought her a sense of delight and purpose.

Claudia's Montessori journey began in 2000, when she first saw a Montessori classroom in action. She remembers thinking how light, focused, and free the children seemed. This prompted her to attend the New England Montessori Teacher Education Center in Cambridge, MA, where she became AMS accredited. Claudia also has a Post Baccalaureate in Early Childhood Education from the Metropolitan State University of Denver.

Claudia has taught at the Primary Level for nine years and has found the experience to be very enriching. Observing children as they discover life's mysteries and become independent is amazing to her and has motivated her to uncover each child's individual learning style and to guide them towards their most relevant pursuit. She believes that a Montessori education gives children and adults an inner compass to help navigate our ever-changing world.


Outside of school, Claudia's life revolves around her husband and son. They enjoy skiing, martial arts, kettle bell fitness classes, cooking, traveling, and golf.

Summer -

Preschool Lead Teacher:

Katja I'm excited about journeying together with you! I've been a Montessorian for several decades now. In 2014, I got my Montessori Early Childhood credential from the Montessori Education Center of the Rockies (MECR), and have been involved with the American Montessori Society (AMS) ever since, where I've been the group leader for peace education resources since March 2016. I think what makes a great teacher is to approach people and situations as a student of Life, and to connect from the heart, Spirit to Spirit. I am here as a holistic educator of peace enjoying to observe and facilitate everyone's growth to their highest potentials. Apart from being aligned with Maria Montessori, my teaching is also in alignment with Shefali Tsabary. I love meditation and exploring the beauty that surrounds us. One of my goals for this summer is to inspire others and commit to raising consciousness, within myself, and those around me.

Academic
Coordinator &
Preschool Teacher:

Beth Weekley was educated by Montessori preschool classroom since she was a toddler and as a preschooler she attended her mom's Montessori school. After graduating with a Masters in Medical Physics and a Masters in Mathematics, she has continued to assist Jean with all aspects of her school. Beth worked for nearly 10 years as a software engineer in the Medical industry and at NCAR in Boulder. Just before her son Owen was born Beth completed the Montessori Infant/Toddler training and the Montessori preschool training. Beth opened a home Montessori Infant/Toddler program, Petunia Montessori, after learning her son has a lung disease that was treated with 24/7 supplemental oxygen 2. Since January 2013 she has moved her toddler program into a classroom at Montessori Academy. Beth enjoys being part of the children's early learning years.

Toddler Lead

Teacher:

Amanda Sjulstad

I was born and raised in Colorado. I have always loved taking care of others. From a very young age I enjoyed being around children and caring for them. Over the past two decades I have worked with them in varying capacities. I fell in love with the Montessori philosophy ten years ago. The way that it draws children in and allows them to work through their true potential is amazing! I completed my Infant/Toddler credential at the Montessori Education Center of the Rockies in Boulder, CO. After my training I worked as an assistant teacher at Mountain View Montessori under an incredible teacher, who has become my mentor. I then worked as a Lead Montessori Teacher for 5 years before having my first son.
We have created a Montessori home environment for my, now two, boys and I have watched several other children in my home over the past 4 years. I am drawn to the Montessori classroom and love being a part of children's lives at such an important time. I am working my way toward a degree in Early Childhood Education at CCD.

The Lord has blessed me with a wonderful husband. We have known each other since middle school and have been together for over 10 years. We have two beautiful boys and two dogs. We love the outdoors; hiking, biking, camping, and paddle boarding together.

Toddler Teacher:

Nicole Rutledge

I come from a large family in a small town in Kansas. I always enjoyed taking care of children and was babysitting my cousins before I could even drive. I spent four amazing summers in Maine teaching art classes to 13 to 16-year olds as a camp counselor over the summers, while I worked on my Bachelor's degree. After college I moved to Colorado in 2010, to be closer to my nieces. After my move I was introduced to the Montessori philosophy, by a friend and began subbing in both Toddler and Primary classrooms. Quickly I realized toddlers were really my favorite age group, and I went from subbing to working on my degree and teaching a lead position in about a year. While training I worked closely with Amanda who was my mentor teacher. In 2013 I Completed my Early Childhood Education Degree from North American Montessori Center and I have continued to work with toddlers all this time.  I love seeing a toddler achieve something they have been working towards and finally reach that 'I did it moment'. I also find that even knowing how much they can achieve I can still be surprised by their independence and determination.

Music Teacher:

Ms. Amy Haywood, singer, storyteller, writer, and mother of two, grew up in Asia and sang in bands throughout high school. She worked summers in an orphanage in Viet Nam, which sparked a lifelong devotion to young children. Amy obtained a BA in education and a second BA in English Literature at Guilford College with a minor in Music. She has been teaching Musicare since 1987. In 1999, Amy and four other Musicare instructors created, Camp Oonie Koonie Cha, an early childhood music camp in Winston-Salem. Musicare and Camp OKC, nourish Amy's profound interest in children. In addition to educating children, Amy conducted workshops for teachers through Smart Start in North Carolina, and she was a key note presenter at the South Carolina early childhood educators conference. Amy and her music partner, Claire Valine have won two Parents' Choice Awards for children's music recordings. They have five works.
Amy resides and teaches in Boulder, Colorado. She is working on publishing "Miss Ellie", the story from her "Rockin in the Rabbit Hole" cd".
Amy is available for, assemblies, special occasions and classroom enrichment. Email her at: missamyh@gmail.com.

Music Teacher:

Jeff Kagan has been sharing nature-based music with kids and parents for over a decade. He currently makes his music and his home in Boulder, Colorado. His concerts and classes are generally science and nature focused and themes include Colorado wildlife, energy conservation, safety in the woods and love the of great outdoors. Jeff loves to write his music while hiking on the trails!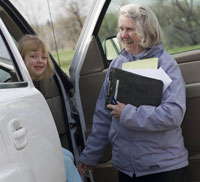 Spanish & Music Instruction
In our preschool classroom we also offer Spanish instruction and music classes with professionals in these areas. Spanish study includes both formal daily group lessons and intergration throughout the day.
Careers
We are always looking for qualified individuals to join us. Please contact us for more information. A great experience and satisfaction are guaranteed.
Merged
Montessori Academy has merged with Petunia Montessori. We are now one school under the name Montessori Academy serving children from 1 to 6 years.